Eljemelo Biewers Cape Town
079 348 1754 - Jestine Enslin
Stuur gerus jou navraag in Afrikaans.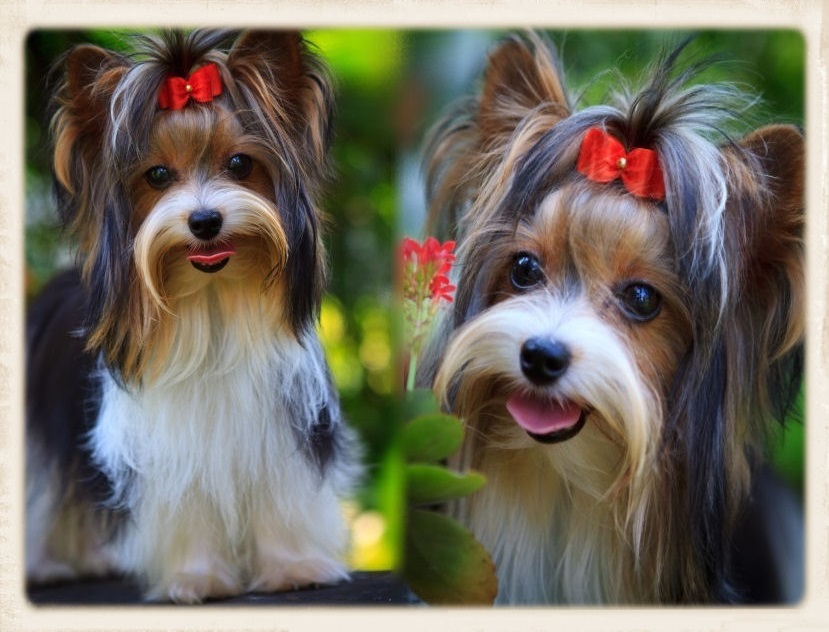 So where did history begin...
The story of the Biewer Terrier breed could been seen as a mystery around the world and written chronicles were often that of a fairy tale than factual documented history by the originators of the breed.
There is much speculation around the globe as to the factual ancestry of the Biewer Terrier; however it is acknowledged that Herr Werner Biewer and his wife Frau Gertrud Biewer are the initiators of the Biewer breed. This German couple who lived in Hunsrück were breeders of Yorkshire terriers under the kennel name von Friedheck.
The story that has come to be passed on was that on January 20th, 1984, a female puppy was born of the color white blue gold; she was named Schneeflocken (Snowflake) von Friedheck. She was sired by FCI Junior world champion Darling von Friedheck and Dam FCI Junior world champion Fru-Fru von Friedheck. Soon after the birth of this little pup the Biewers would take their breeding program in a different direction. On 15th November 1989 Herr Biewer signed a short standard for the new colored dogs, regrettably it lacked detailed composition.
In 1997 after an extended illness Herr Biewer passed away, the Friedheck dogs were disbursed to German homes and breeders.
The KFT (Klub fur Terrier), declined to register the new colors of the Biewers dogs, as a recognized color for the Yorkshire terrier, and various dogs remained unregistered with any kennel club. In due course the dogs were to become registered with the ACH.e.v (Allgemeiner Club der Hundefreunde Deutchland.e.v), and from there other kennel clubs in Germany took to registering the dog Biewer Yorkshire terrier, although none of those kennel clubs are FCI affiliated to date. Many of the dogs being registered by these clubs were deficient in an established standard synonymous with a pure breed.
In December 2010 the Kennel Union of South Africa were the first Kennel Club to accept the breed as a new developing breed on their Appendix register.
The Biewer Terrier Breed standard was accepted by KUSA on the April 1, 2012.
Many other FCI affiliated clubs have followed in South Africas footsteps and are accepting the Biewer Terriers onto their countries appendix registers.
We imported our first Biewer Terrier in the middle of 2007. "Uncle Sam of Eviland" i love him to bits!
We are keenly dedicated to continue developing the breed to the best of our ability. Our Biewer Terriers have been MARS Breed spesific tested with a 100% Biewer Terrier result. We do not breed
Parti Yorkies nor do we breed agnostically from the Biewer Terrier Breed standard as set out by KUSA.